Step into the world of luxury and high fashion with Gucci! From its humble beginnings to becoming a global icon, Gucci has carved a name for itself in the fashion industry. With its exquisite designs, impeccable craftsmanship, and celebrity endorsements, Gucci has become synonymous with opulence and style. Join us as we delve into the captivating history of this iconic brand, explore their most popular products that have captivated fashion enthusiasts worldwide, and discover how Gucci continues to dominate the fashion world today. Let's take a fashionable journey together with Gucci – where elegance meets sophistication!
History of Gucci
The story of Gucci begins in Florence, Italy, back in 1921. It was founded by a visionary man named Guccio Gucci. Originally a small leather goods and luggage company, Gucci quickly gained recognition for its exceptional craftsmanship and attention to detail.
In the early years, Guccio drew inspiration from his time working at prestigious hotels in London and Paris. He combined elements of English elegance with Italian style to create unique designs that captured the essence of luxury.
Gucci's signature motifs soon became iconic symbols of the brand. The interlocking G logo, inspired by horse bridles, represents the founder's initials and has become synonymous with status and prestige.
During the 1950s and 1960s, under the leadership of Aldo Gucci (son of Guccio), the brand expanded internationally. It opened stores in New York City and Beverly Hills, attracting Hollywood celebrities who fell in love with its luxurious products.
Gucci faced challenges in the subsequent decades but regained its prominence under creative director Tom Ford during the 1990s. His bold designs injected new life into the brand while still honoring its rich heritage.
Today, as part of Kering Group (formerly known as PPR), Gucci continues to set trends on runways worldwide under Alessandro Michele's creative direction. With an emphasis on eclectic aesthetics blended with classic elements, it remains at the forefront of fashion innovation – a testament to its enduring legacy as one of the most iconic luxury brands in existence.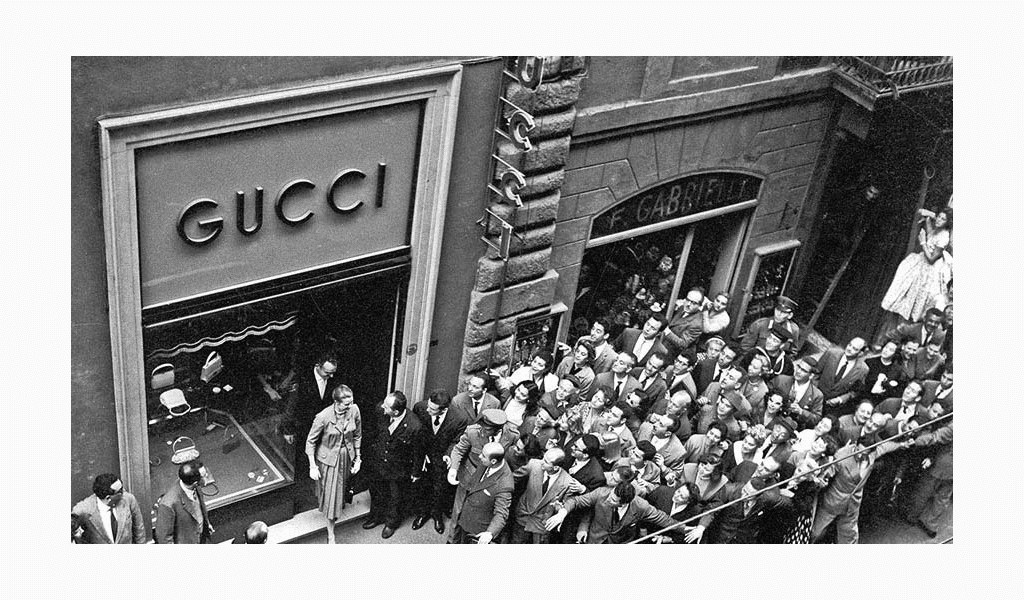 Gucci's Place in the Fashion World
Gucci has undoubtedly secured its place as a powerhouse in the fashion world. With its iconic logo and signature designs, the brand has become synonymous with luxury and high fashion. Founded by Guccio Gucci in 1921, it all started with a small leather goods shop in Florence, Italy.
Over the years, Gucci has evolved into much more than just a clothing brand. It has become an aspirational lifestyle that people strive to be a part of. From their sleek and sophisticated ready-to-wear collections to their coveted accessories including handbags, shoes, and sunglasses – everything about Gucci exudes elegance and opulence.
#LiuWen stars alongside the #GucciBamboo1947, a timeless emblem of the House, in a new chapter of the campaign. Discover more https://t.co/tx6OITQx4K pic.twitter.com/fAZt7LLpyn

— gucci (@gucci) August 4, 2023
What sets Gucci apart from other fashion brands is its ability to continuously push boundaries while staying true to its roots. Creative Director Alessandro Michele's unique vision has breathed new life into the brand, bringing together classic elements with modern twists. This fusion of old and new creates pieces that are both timeless yet on-trend.
Not only does Gucci dominate the runways season after season, but it also holds immense influence over popular culture. Countless celebrities have been spotted wearing Gucci on red carpets and in everyday life. From Rihanna to Harry Styles, they all turn to this luxury label for their sartorial needs.
In addition to being loved by celebrities and fashion enthusiasts alike, Gucci remains committed to sustainability efforts through initiatives such as carbon-neutral manufacturing practices and reducing waste throughout their supply chain.
With its rich history, innovative designs, celebrity endorsements, and commitment to sustainability – there is no denying that Gucci's place in the fashion world is firmly cemented at the top. It continues to set trends rather than follow them while maintaining an air of exclusivity that keeps customers coming back for more!
Gucci's Most Popular Products
Gucci, the epitome of luxury and high fashion, offers a wide range of products that have become iconic in the fashion world. From handbags to shoes, Gucci has created timeless pieces that are both stylish and coveted by fashion enthusiasts around the globe.
One of Gucci's most popular products is their collection of handbags. The GG Marmont line has gained immense popularity with its signature double G logo design and quilted leather. These bags come in various sizes and colors, allowing individuals to find the perfect fit for their personal style.
In addition to handbags, Gucci is also known for their eyewear collection. Their sunglasses showcase unique designs that blend sophistication with a touch of glamour. Whether it's oversized frames or sleek aviators, Gucci sunglasses add an instant dose of chicness to any outfit.
Gucci Multicolor Rectangle Rug Fashion Brand Area Carpet Home Decor Door Mat Luxury
When it comes to footwear, Gucci's sneakers have taken the fashion world by storm. The Ace sneaker line features embroidered motifs such as bees and stars, adding a playful twist to a classic silhouette. These sneakers effortlessly combine comfort with style and can be worn with anything from jeans to dresses.
Another highly sought-after product from Gucci is their fragrances. With scents like Bloom and Guilty, these perfumes embody elegance and allure. Each fragrance tells a different story but all exude confidence and femininity.
From accessories to ready-to-wear clothing items, each product from Gucci showcases impeccable craftsmanship combined with innovative designs that set trends rather than following them.

Gucci's Celebrity Endorsements
One of the factors that has contributed to Gucci's global success and reputation is its strong association with celebrities. Over the years, numerous A-listers from the worlds of music, film, and fashion have chosen to wear Gucci on red carpets, magazine covers, and in their everyday lives.
From Hollywood icons like Audrey Hepburn and Grace Kelly to modern-day stars like Beyoncé and Rihanna, Gucci has consistently been a favorite brand among celebrities. The range of endorsers spans across generations and cultural backgrounds, further cementing Gucci's status as a timeless luxury brand.
Gucci has also collaborated with various influential figures in different industries. Creative director Alessandro Michele has worked closely with artists such as Dapper Dan, known for his iconic streetwear designs in Harlem during the 1980s. This collaboration aimed to merge high fashion with street style aesthetics while paying homage to African American culture.
These celebrity endorsements not only boost Gucci's visibility but also inspire trends and influence consumers' purchasing decisions. When someone sees their favorite musician or actor wearing a stunning Gucci creation on a red carpet or social media post, it creates desire and aspiration within them.
In recent years especially, social media platforms like Instagram have played a significant role in amplifying these celebrity endorsements. The reach is instantaneous as millions of followers see their idols donning exquisite Gucci pieces – sparking conversations about style choices while generating buzz around the brand itself.
As we explore the history of Gucci, its place in the fashion world today becomes undeniable. With its rich heritage dating back almost 100 years ago to Florence – birthplace of Renaissance art – this Italian luxury label continues to set trends and push boundaries under Alessandro Michele's creative direction.
Gucci stands at the forefront of innovation by seamlessly blending tradition with contemporary sensibilities. Its distinctive aesthetic captivates audiences worldwide who appreciate craftsmanship infused with artistic expression.
Whether it's the iconic GG logo, the vibrant prints and patterns, or their luxurious
Follow Us: Pinterest, Twitter, Youtube, Medium, Facebook